Driscoll Babcock Galleries in New York just launched a captivating exhibition showcasing the exceptional career of E. Ambrose Webster.

On view through February 13, Driscoll Babcock Galleries is featuring works by America's greatest interpreter of Fauvism: E. Ambrose Webster (1869-1935). The exhibition, titled "The Primacy of Color," presents a number of Webster's early 20th-century paintings and is the artist's sixth solo show at Driscoll Babcock. The gallery reports, "Webster was among the first and most forceful modern American painters, and he created some of the most adventurous paintings of his time. In a dynamic career spanning forty years, he traveled widely in Europe, North Africa, the Azore islands, Jamaica and Bermuda, chasing the sun-drenched color that would inform his own high-keyed palette and superb expression of light."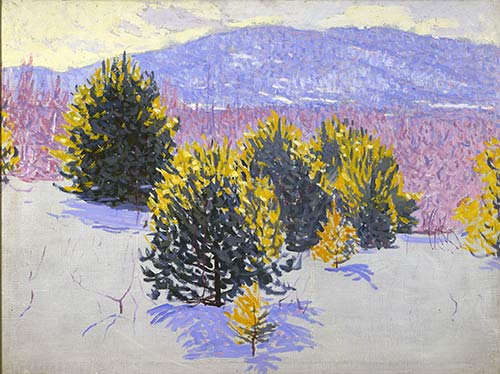 E. Ambrose Webster, "First Snow New Hampshire," 1912, oil on canvas, 29 1/2 x 39 in.
(c) Driscoll Babcock Galleries 2016

Webster's originality did not go unnoticed, and the painter was admired by his contemporaries. Edward Hopper, one of Webster's neighbors in Provincetown, remarked that he "could find no flaw" in Webster's painting. Richard Diebenkorn also suggested that "Webster committed himself uncompromisingly to the Paris experience and found his own stride within it … he could achieve weight as well as brilliance."

E. Ambrose Webster, "Provincetown Garden," 1916, oil on canvas, 20 x 24 in. (c) Driscoll Babcock Galleries 2016
E. Ambrose Webster, "Rock in the Sea," 1913, oil on canvas, 30 x 40 in. (c) Driscoll Babcock Galleries 2016

"E. Ambrose Webster: The Primacy of Color" opened on January 7 and will be on view through February 13.

To learn more, visit Driscoll Babcock Galleries.

This article was featured in Fine Art Today, a weekly e-newsletter from Fine Art Connoisseur magazine. To start receiving Fine Art Today for free, click here.