Botticelli, Cézanne, Gauguin, Leonardo, Monet, Titian, Turner, Velázquez, and Vermeer? Yes, one of the most significant collections of European Old Master paintings ever assembled is now on view at the Art Gallery of New South Wales in Australia.

Seventy masterful paintings and drawings spanning four centuries will feature during a can't-miss exhibition in Sydney, Australia. "The Greats: Masterpieces from the National Galleries of Scotland" opened on October 24 at the Art Gallery of New South Wales and includes some of the biggest names in the history of art. Some of the masterpieces, including Georges Seurat's "La Luzerne" and Rembrandt van Rijn's "A Woman in Bed" have never been seen in Australia before. Deputy Premier and Minister for the Arts Troy Grant said, "An exhibition of this caliber is a real coup for the state and builds on our standing as the cultural capital of Australia."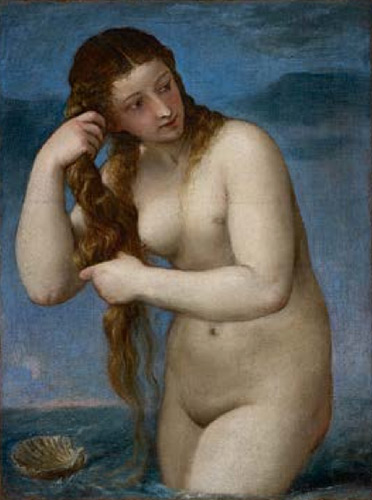 Titian (Tiziano Vecellio), "Venus Rising from the Sea (Venus Anadyomene)," ca. 1520-1525, oil on canvas, 74 x 56.2 cm. (c) Scottish National Gallery 2015

The gallery describes the exhibition as "unfolding in rooms devoted to the art of the Italian Renaissance, the Baroque in Southern and Northern Europe, the French and British Enlightenment, 19th-century Scotland, and Impressionism. The exhibition has been carefully designed and installed to accentuate the grandeur of the paintings and foster an intimate experience with each of the artworks."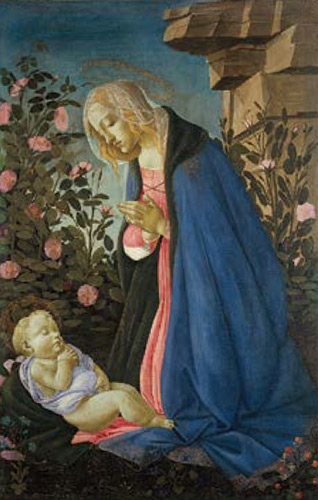 Sandro Botticelli, "The Virgin Adoring the Sleeping Christ Child," 1485, tempera, oil, and gold on canvas, 122 x 80.5 cm. (c) Scottish National Gallery 2015

Sandro Botticelli's masterpiece "The Virgin Adoring the Sleeping Christ Child" from 1485 has not been shown outside of the United Kingdom in 169 years and is truly a sight to behold. A graceful Virgin in canonical blue kneels over the resting child, eyes closed and hands clasped in prayer. Tightly cropped, the two subjects form a harmonious triangular composition, alluding to the Holy Trinity and providing stability for the painting. This triangular arrangement was common in Renaissance religious painting and underscores how artists of 15th-century Italy preferred the structure and idealism of classical art. The gallery offers, "Like many Renaissance paintings, the picture is rich in symbolism. The enclosed garden is a reference to the purity of the Virgin, who was often called 'a rose without thorns.' Some symbols are more ominous. The sleeping child with his pallid complexion is presumably a reference to Christ's eventual death. The red strawberry plant in the lower right corner symbolizes the blood he will shed on the cross."

John Singer Sargent, "Lady Agnew of Lochnaw," 1892, oil on canvas, 125.7 x 100.3 cm.
(c) Scottish National Gallery 2015

"The Greats: Masterpieces from the National Galleries of Scotland" opened on October 24 and will be on view through February 14.

To learn more, visit the Art Gallery of New South Wales.

This article was featured in Fine Art Today, a weekly e-newsletter from Fine Art Connoisseur magazine. To start receiving Fine Art Today for free, click here.