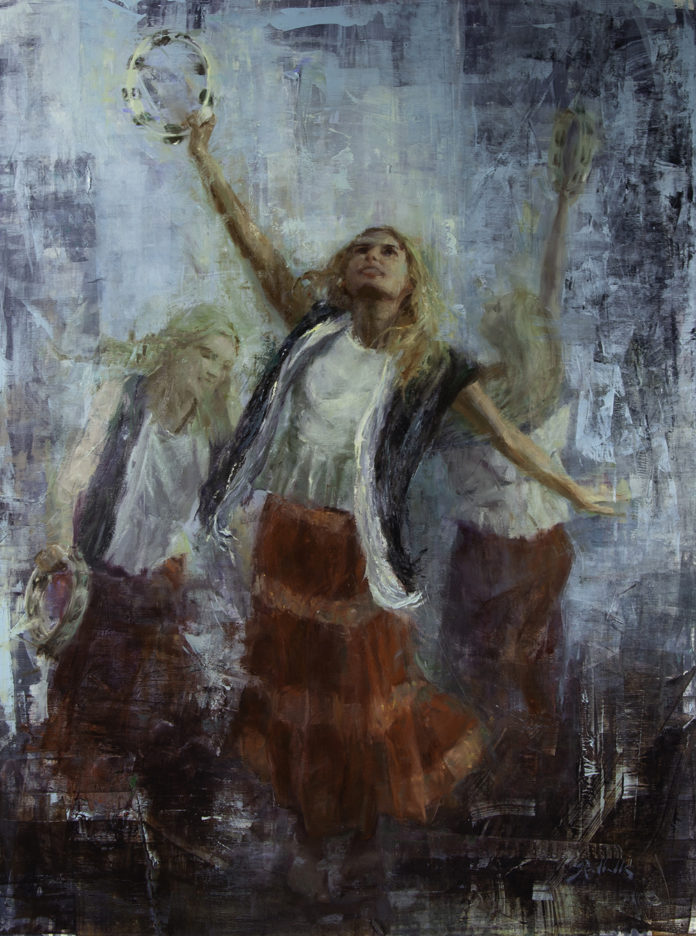 Dance of Miriam
40 x 30 in.
Oil
Available through the artist
[email protected]
Dance of Miriam is a piece I imagined after reading the history of the Israelites deliverance by the hand of God from captivity and slavery to the Egyptians as told in the book of Exodus. After crossing the Red Sea to freedom, Miriam, the sister of Aaron, takes up a tambourine and dances and sings with obvious joy for the triumph of God. In this painting I used abstracted elements and specific colors to communicate this joy and movement as I saw it in my mind. I hired several models to dance in my studio and outdoors, capturing videos and stills of their movement so I could find images that worked together, and I could interpret on the canvas to describe what I imagined. During the course of the painting I discovered the technical narrative to be most important to achieving the effect I was after. I used rollers, squeegees, rags, scrapers and even poured solvent over the painting until the action of the paint and the marks created gave the conceptual narrative its intention.
Dance of Miriam is currently in my studio!
Education
Palette and Chisel Academy of Art, Chicago
American Academy of Art, Chicago
Northern Illinois University, BSed
William Rainey Harper College
Recent Workshops
Alyssa Monks
Casey Baugh
Roger Dale Brown
Quang Ho
Bernardo Siciliano
Vincent Desiderio
Steven Assael
Recent Shows
OPA Salon 2019
NOAPS Best of America 2019
NOAPS Best pf America 2018

3rd Place Award for "The Gift"

NOAPS Small Works 2018
OPA Eastern Regional 2017

Award of "Excellence" for 'Model Break'

NOAPS Best of America 2017

Award "Best Figurative Work" for 'Allure'

Unlocking The Bible Fundraiser: Painting "The Sower" completed live and auctioned at the event
American Impressionist Society Small Works 2017
Portrait Society Award of NOAPS Signature Artist Group Show 2016

Honorable Mention "Out of the Box" category for 'Free Bird'

"Thief on the Cross" one act play by Stephen Baldwin, Painting "Redemption" featured in the performance.
"Grasshopper" movie, commissioned painting "It's Over"
NOAPS Online International 2014
NOAPS Best of America 2013
American Impressionist Society 2013
OPA Salon 2013
American Impressionist Society 2012
NOAPS Best of America 2012
OPA Eastern Regional 2011
OK Art, Oklahoma

Best of Show Award for 'Longing'

23rd Annual Conservatory Art Classic, Bosque TX
22nd Annual Conservatory Art Classic, Bosque TX

1st Place Gold for "Contemplation"

Barns & Farms National Juried Competition 2007
OPA Eastern Regional Miniature 2007
OPA Eastern Regional, 2005
Professional Memberships
OPA, Oil Painters of America
Portrait Society of America
ARC, Art Renewal Center
American Impressionist Society
NOAPS, National Oil and AcrylicPainters Society, Signature Status
Galleries
R. S. Hanna Gallery, Fredericksburg, TX
Castle Gallery, Fort Wayne, IN
Instagram: jrussellwells
Email: [email protected]
In addition to his studio painting J. Russell Wells is nearing completion on a book about contemporary artist's describing their artistic epiphanies which have impacted their careers.