Painters often have an acute awareness of their surroundings, constantly taking in the sights, sounds, and emotions of unique places before translating those experiences into beautiful images. Artist Dean Larson has not only mastered this process, he has infused his oil paintings with an experimental nature that could defy categorization.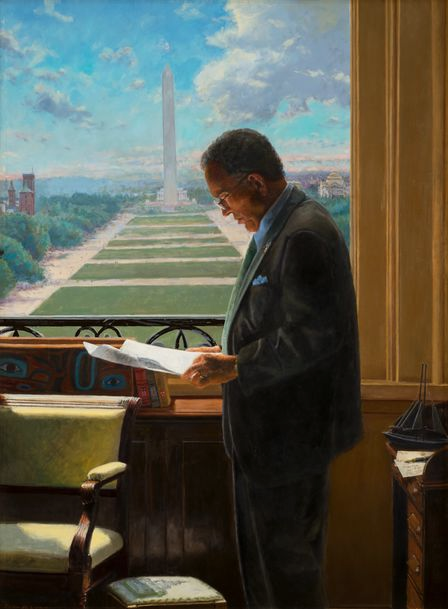 For Dean Larson, a painting's subject will often reveal itself as he goes about his exploration of the everyday world — something that visually excites his eyes. "As soon as I step foot outside, my eye is always looking for new subjects," he writes. "Often what's most important is how the light falls onto the scene or reflects off different surfaces." From this moment, Larson begins his work, typically approaching the painting at the center of his canvases first before working outward and organically. "In addition to capturing how the light hits the subject, my process also emphasizes variety and unequal distribution of shapes and edges," he continues.
Oil Paintings by Dean Larson
Larson's unique methods come to the fore in an outstanding picture of Florence, Italy's most iconic structure: the Duomo. Capturing the majestic church just as night begins to blanket the city, the Duomo shines like a beacon, its well-illuminated walls contrasting beautifully against a royal blue sky.
The feathery and expressive brushwork enlivens the canvas, vibrating on the surface of the work and surely echoing the bustling crowds below. Particularly noteworthy is the elegant play of rectangular roofs as they dance back and forth, receding into the painting's main subject. Also eye-catching is the cool glow of a greenish hue on the walls of a structure to the center right.
"San Lorenzo Market" is another magnetic picture done in Florence. Executed en plein air, a delightful quilting of pattern, shape, and color composes the umbrellas, merchants, and customers as they stroll down a narrow street.
Larson recounts, "My initial intention was to paint the activity of the market and show the wonderful shapes of the umbrellas and tarps that the vendors use to cover their stands. I found a terrific spot behind some stalls, between two doorways. While I was working there, many of the vendors would come and check on the progress of the work. At one point one of them asked, 'Hey, where am I?' Eventually the figures became a little abstract so whoever came up I would be able to say, 'Yes, that's you right there!'"
Larson's discerning eye also extends into figurative work, especially portraiture, as "The Cello Player — Portrait of Michael Grebanier" can attest. The subject, found in full view and seated, immerses himself in his beautiful craft, his expression conveying such calm and artfulness. Once again, Larson's expressive brushwork activates the surface of the portrait, a captivating duality with the work's musical subject.
To see more contemporary oil paintings, visit Dean Larson.
This article by Andrew Webster was featured in Fine Art Today, a weekly e-newsletter from Fine Art Connoisseur magazine.
---
> Sign up to receive Fine Art Today, our free weekly e-newsletter featuring contemporary oil paintings and much more.
> Click here to subscribe to Fine Art Connoisseur magazine, so you never miss an issue
Register for Realism Live here > realismlive.com