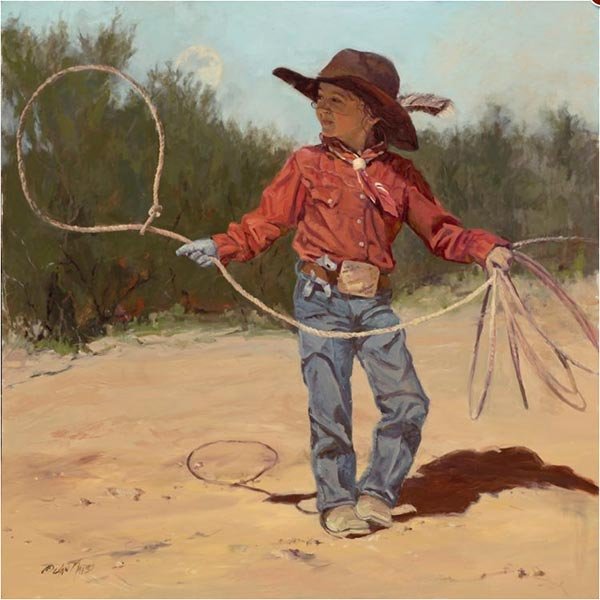 Jan Mapes, "Gonna Lasso the Moon," oil, 40 x 40 in. (c) Briscoe Western Art Museum 2016
The Briscoe Western Art Museum is overjoyed to play host once again to its annual "Night of Artists Art Sale & Exhibition," which offers collectors the chance to grab original works from many of the best Western American artists. When do the events kick off?

Coinciding with San Antonio's largest annual cultural event — the Fiesta San Antonio — The Briscoe Western Art Museum will host its 2016 "Night of Artists Art Sale & Exhibition." Events begin in earnest on Friday, April 1, with a tantalizing reception, where artists can be met and their gorgeous works scoped. Saturday, April 2, will see awards handed to the most deserving of Western artists. The fun really heats up between April 3 and May 15, when the public exhibition and sale is open.

Over 70 top Western artists will be represented in this year's edition of the show and sale. A portion of the proceeds will go toward supporting the lovely Briscoe Western Art Museum. A detailed schedule of all the events can be found here. Already convinced? Tickets may be purchased here.

To learn more, visit the Briscoe Western Art Museum.

This article was featured in Fine Art Today, a weekly e-newsletter from Fine Art Connoisseur magazine. To start receiving Fine Art Today for free, click here.