A group show from four artists who all work in different mediums — Romona Youngquist, Tracy Leagjeld, Steve Hill, and Yong Hong Zhong — focuses on the four seasons.
4 Seasons Exhibit at Art on the Boulevard Gallery (Vancouver, WA)
by Steven R Hill
When gallery director Kevin Weaver conceptualized this special exhibit about six months ago, with four artists (myself, Tracy Leagjeld, Romona Youngquist, and Yong Hong Zhong) using four distinctively different mediums, we all jumped at the chance to put our best seasonal work into the challenge of creating a show with a breadth of possibilities, not only in diverse subject matter, but a range of styles that brought a huge crowd to opening night, Friday, April 5. Sales have already been brisk . . . we are all working on some replacement pieces, as this exhibit hangs for two months!
We all love working with a gallery that goes way beyond just hanging artwork and doing show openings. Kevin Weaver, director, gives all 55 artists in the gallery constant challenges with well-thought-out theme shows and has built a considerable clientele of repeat gallery collectors and patrons who have come to expect "new and exciting" as the norm. It's easy to say it but a whole other thing to actually make it happen, which he does. It doesn't hurt that the artists in this gallery are all very accomplished and have gained solid name recognition in the art world.
I work in pastels, predominantly en plein air, and was in Croatia and Bosnia, teaching my fourth plein air workshop, when the invite arrived. "Aha! I can cover summer and fall over here," I thought to myself, but summer had hung on to Croatia and Bosnia with a very warm, sunny grip. Luckily, we were also headed to Prague, several hundred miles north of Dubrovnik, and autumn was in full swing. Even with the magnificent city views everywhere in sight, I headed straight for the famous 14th-century Charles Bridge to paint the river, bridge, and fall colors. It did not disappoint! "Autumn Evening, Prague" and "Bridge at Mostar, Bosnia" both just sold at the gallery, as well as "Dog Creek Falls," along Washington's Columbia River.
A high-end art gallery in Vancouver, Washington?!?, you might say. Art on the Boulevard has become exactly that. Check-out the "4 Seasons" exhibit and put your mind-set into any major-league art city in the United States. I'm betting you will find many works on the website worthy of consideration for your own collections (and note that the gallery knows how to properly package and ship).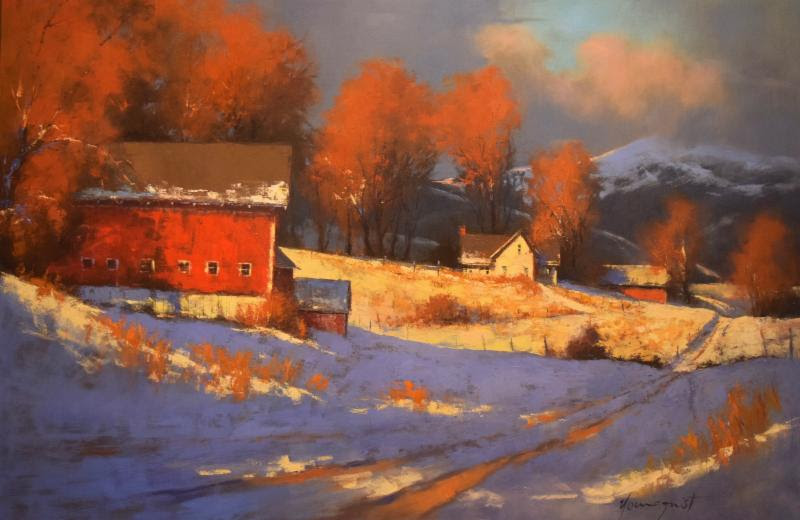 "4 Seasons" is on view at Art on the Boulevard through May 31, 2019.
---
Sign up to receive Fine Art Today, the free weekly e-newsletter from
Fine Art Connoisseur magazine.