Discover who's exhibiting at New York's longest-running art, antiques, and design fair, now entering its 67th year.
The Winter Show Announces Exhibitors for 2021 Online Edition and Design Co-Chairs Wendy Goodman, Thomas Jayne, and Frank de Biasi. The new virtual fair and programming will take place January 22–31, 2021 with VIP Preview Access on January 19–21, 2021.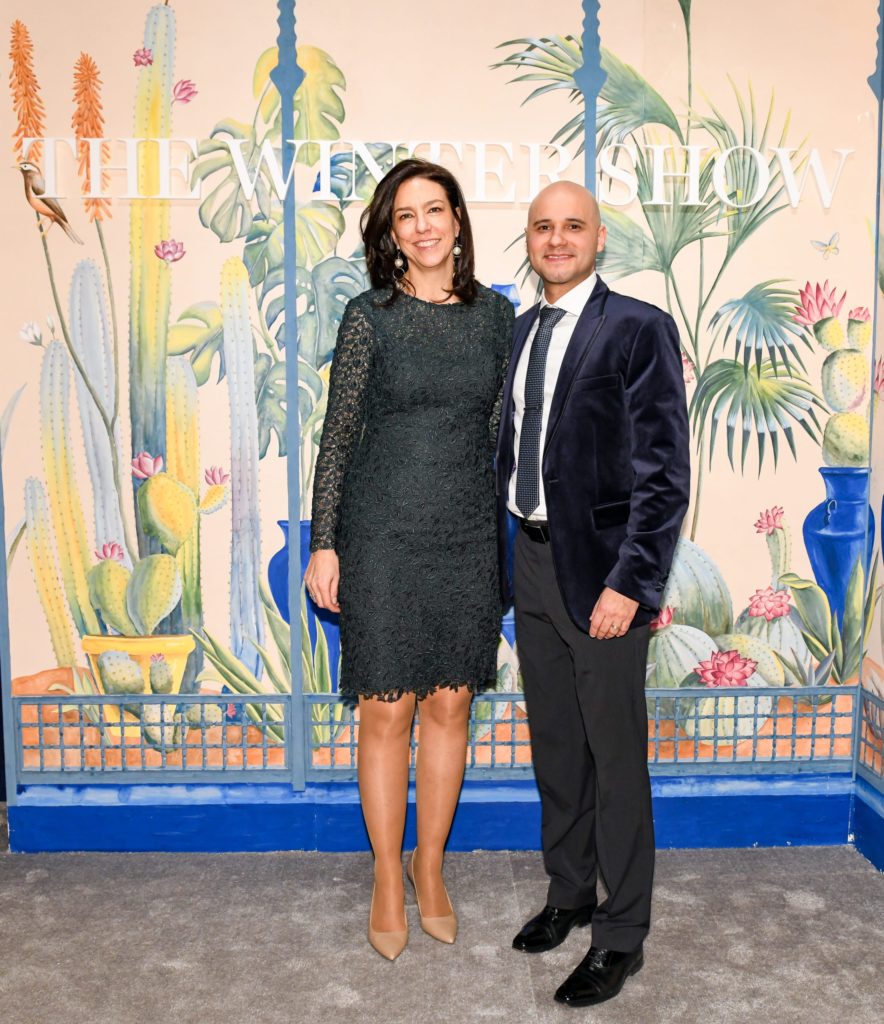 From the organizers:
The Winter Show's new virtual platform will feature some 60 exhibitors, bringing together a dynamic group of leading international dealers that represent a diverse and global mix of fine and decorative arts from ancient times to the present day. The show is New York's longest-running art, antiques, and design fair, established in 1954 by East Side House Settlement to benefit the community-based organization's critical mission serving the Bronx and Northern Manhattan. All net proceeds from The Winter Show's VIP Preview Access, general admissions, and any additional donations directly benefit East Side House and contribute substantially to the organization's life-changing work.
"While the format of The Winter Show may look different this year, the quality of our exhibitors, programming, and partners remain as engaging as ever," said Executive Director Helen Allen. "We have worked to create a virtual format that is interactive, visually stimulating, and showcases the quality and depth of the objects presented. We are excited to bring The Winter Show and the transformative work of East Side House to an even greater international audience through our new online platform."
The Winter Show 2021 will take place on an immersive online platform that allows exhibitors to present a gallery exhibition in a three-dimensional virtual space. Visitors will be able to take in the digital presentations as a whole and view close-up, detailed views of each work. Exhibitors will curate their selections, featuring up to twenty artworks and objects at a time in the virtual space. The Winter Show will also provide a space for discussion and engagement, offering virtual "office hours" for visitors to connect with dealers directly.
In keeping with the Show's commitment to presenting a high-quality selection of works in the fine and decorative arts, the objects on view in the online fair are vetted for authenticity, date, and condition by a committee of experts from the United States and Europe.
Each year, The Winter Show invites leaders from the worlds of interior design and architecture to lend their voices as Design Co-Chairs, reinforcing the Show's deep relationship with the design community. The Show's 2021 Design Co-Chairs are Wendy Goodman, Thomas Jayne, and Frank de Biasi. Their support heightens awareness of the important work done by East Side House, in addition to promoting the use of historic art and objects in contemporary architecture and design.
In 2020 in response to the COVID-19 crisis, East Side House Settlement created new initiatives to address the immediate needs of the communities that bear the brunt of public health crises, including the distribution of food to families through the Harvest to Haven program and education tools to students to mitigate the digital divide and keep students learning remotely.
"East Side House has always prioritized the needs of our community above all else. Now, in a time where families in the Bronx are bearing the brunt of this pandemic—in jobs lost, in household income depleted, and in lives lost—we made sure to step up and mobilize to meet their needs," said Daniel Diaz, Executive Director of East Side House Settlement. "East Side House is proud to be able to feed over 5,000 of our neighbors each week from our new Harvest to Haven program, conduct thousands of wellness checks with families to make sure they are safe and healthy, and rethink how we can educate our young people in this new environment. Every day, we are inspired by the resolve of the families we serve. The funds raised by The Winter Show help make it possible for us to provide critical resources, programs, and opportunities to empower individuals and make a meaningful difference in our communities."
2021 Winter Show Exhibitors:
Adelson Galleries, Inc., New York, USA
A La Vieille Russie, Inc., New York, USA
Apter-Fredericks, London, UK
Arader Galleries, Philadelphia, PA, USA
Aronson of Amsterdam, Amsterdam,
Netherlands
Barbara Israel Garden Antiques, New York, USA
Bernard & S. Dean Levy Inc., New York, USA
Bernard Goldberg Fine Arts, LLC, New York, USA
Bowman Sculpture, London, UK
Carolle Thibaut-Pomerantz, Paris, France
Cohen & Cohen, Reigate, UK
Cove Landing, New York, USA
Daniel Crouch Rare Books, London, UK; New York, USA
David A. Schorsch–Eileen M. Smiles American Antiques, Woodbury, CT, USA
Didier Ltd, London, UK
Donzella, New York, USA
Elle Shushan, Philadelphia, PA, USA
Erik Thomsen Gallery, New York, USA
H. Blairman & Sons Ltd, London, UK
Hill-Stone, Inc., South Dartmouth, MA, USA
Hirschl & Adler Galleries, New York, USA
Hyde Park Antiques, Ltd., New York, USA
James Graham-Stewart, London, UK
James Infante, New York, USA
James Robinson, Inc., New York, USA
Joan B Mirviss LTD, New York, USA
Jonathan Boos, New York, USA
Kelly Kinzle, New Oxford, PA, USA
Kentshire, New York, USA
Keshishian, London, UK
Koopman Rare Art, London, UK
Les Enluminures, Chicago and New York, USA; Paris, France
Lillian Nassau LLC, New York, USA
Lobel Modern, New York, USA
Lost City Arts, New York, USA
Lowell Libson & Jonny Yarker Ltd, London, UK
Macklowe Gallery, Ltd., New York, USA
Maison Gerard, New York, USA
Martyn Gregory, London, UK
Menconi + Schoelkopf, New York, USA
Michael Goedhuis, London, UK
Michele Beiny, Inc., New York, USA
Nathan Liverant and Son LLC, Colchester, CT, USA
The Old Print Shop, Inc., New York, USA
Peter Finer, London, UK
Peter Pap Oriental Rugs, Dublin, NH, USA
Plektron Fine Arts AG, Zurich, Switzerland
Ralph M. Chait Galleries, Inc., New York, USA
Red Fox Fine Art, Middleburg, VA, USA
Robert Simon Fine Art, New York, USA
Robert Young Antiques, London, UK
Ronald Phillips Ltd, London, UK
Schwarz Gallery, Philadelphia, PA, USA
S. J. Shrubsole, New York, USA
Spencer Marks, Southampton, MA, USA
Tambaran, New York, USA
Thistlethwaite Americana, Upperville, VA, USA
Thomas Colville Fine Art, Guilford, CT, USA
Thomas Heneage Art Books, London, UK
Throckmorton Fine Art, New York, USA
For more details and to purchase tickets for The Winter Show, visit thewintershow.org.
---
> Sign up to receive Fine Art Today, our free weekly e-newsletter
> Click here to subscribe to Fine Art Connoisseur magazine, so you never miss an issue